AWFUL MODS
Feb 03
[video]
Feb 02
Gun piercing horror story
When I was about 5 years old my Mom took me to the hair salon to get my ears pierced. They used a gun and didn't wear gloves. The piercing gun was so awful that it jammed and pulled out the jewelry. So I had to get my left ear done twice.
and this was their golden aftercare advice:
clean with rubbing alcohol twice a day
spin the jewelry/pick off any crusties
wear jewelry on the tightest setting so the back doesn't fall off during swelling
Not only that, I also was allergic to the shitty jewelry they pierced my ear with so my ears were so irritated that it took four years for them to settle down - four years. I was just a kid and I thought it was my fault so I hid it from my parents.
The only reason my ears settled down was because I realized my skin grew to the back of my studs for the third time so I ripped them out. There was so much scar tissue from constantly getting infections that my holes stayed open and the next jewelry I put in just happened to be stainless steel, which finally closed the book on the problems.
I've since educated myself and now have 30+ piercings and only get pierced by professionals with needles - and I've never had a piercing issue since.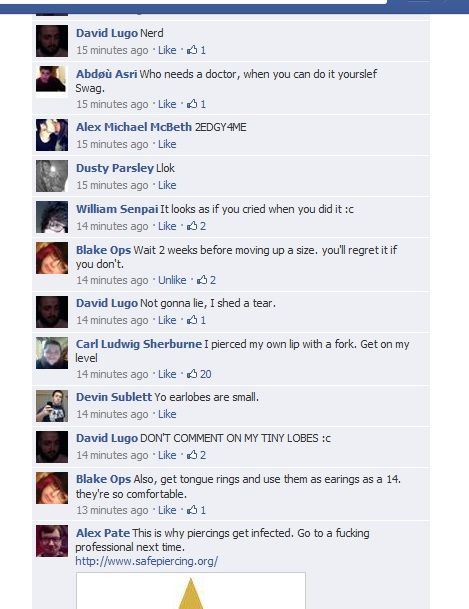 I was going through a facebook group when I saw this he pierced his ear himself and already plans on stretching to a 14g later tonight.  Then, somebody comments that he pierced his lip with a fork.  
video of guy piercing lip with fork  
What's awful:  He's sizing up the day he pierces his own ear with a sewing needle and the other guy PEIRCE HIS LIP WITH A FORK
How to fix it: TAKE THEM OUT! Get them done by a professional!  DON'T USE EATING UTENSILS TO PEIRCE YOURSELF
[Don't have a Tumblr and I tried my best to do everything right but not sure if my computer was cooperating/I was mildly confused]
Jan 31
Taken off facebook from Kyle, this is an acrylic taper that has started to break down due to body heat from being worn. Just say no to acrylic jewelry and tapers.

Anyone else want to throw out their acrylic?
(Source: zero--orchestra, via cthulhupeelz)
Jan 30
SOURCE: link
SUBMITTER COMMENT: This girl went from a 20g mall piercing to a 2g in 6 weeks. Her instagram documents it, along with this complete idiot giving her equally as awful advice on every other photo. 
HOW TO FIX IT: STOP PUTTING STUFF IN YOUR EARS. Jesus Christ, when did it become a race? I don't think much can be done at this point beyond taking them out and waiting like any sane person would do. 
SOURCE1 SOURCE2 FULL-SIZE IMAGE

SUBMITTER'S COMMENT: This girl is on my Facebook friends list. She is only 14 years old. She just posted a status and these pictures. Some other girl commented saying that it was stupid, and it will get infected. She replied that she knows, but she doesn't care.
She used the exact technique that you have on blast on your blog right now. She actually posted a picture of a pencil with needle stuck in the eraser. She didn't even bother cleaning the needle before taking the picture. It's all crusty and gross.

WHAT'S AWFUL: Um, everything. First of all, she's 14. Second, she did it herself using a pencil and a pin/sewing needle. Third, it looks like she did it in her bathroom. Fourth, it's just terrible looking.
HOW IT CAN BE FIXED: She's going to have to wait. She can't get it professionally fixed because she is underage. I'd say she should see a doctor because it will probably be infected by morning, if it isn't already. 
Jan 29
The truth about ear studs

Let's talk for a minute about the vast majority of commercially available jewelry marketed for pierced ears.
Below you will see a picture of 14K gold jewelry that supposedly is safe and comfortable.

1. The edges of the jewelry appear sharp and the finish is less than mirror finish. Open grooves in the backing and the rough, sharp edges can damage piercings and harbor bacteria and debris.

2. The wonderful 14K gold stamping. The stamping is on the post of the earring, and the crevices and edges are a perfect breeding ground for nasty pathogens.

3. Super sharp threading on the post. I have seen this sort of threading go as far up as 3/4 of the way up the post, essentially causing the piercing to constantly be irritated and damaged. Rubbing this threading even against normal skin can cut into the surface… OUCH!

4. The 14K gold means quality, right? WRONG! The karat only tells you of the percentage of gold in the jewelry in GENERAL. It does not specify if the post, backing, front design or any other part of the jewelry is gold, or even if it is plated! Plated gold can flake off and cause rough edges and expose the wearer to the metals under the plating, which can contain lead (toxic), nickel (a common metal causing reactions), copper and other "stuff" to make the jewelry harder, brighter and more "gold looking".

Long story short, the jewelry going through your body should ALWAYS be implant grade, with a mirror finish and no rough edges, and not have imprints or other marks where bacteria can colonize. We love using neometal threadless titanium labrets, which come in many different lengths (for chubby or thin lobes) and tons of threadless top choices! Stop by today and pick up some truly safe, implant grade quality jewelry and see what a wonderful difference it makes!
(via cthulhupeelz)
Submitter's comment: This is my friend of about 4 years now and her boyfriend. The girl's step dad tattoos out of their home, where they smoke and eat. Tattoos people of age only but does very sloppy work. She says he's been tattooing for 30 something years now. She has mentioned to me before she would like to go to another tattoo artist because he's sloppy but doesn't want to hurt his feelings and she doesnt have to money. She's also pierced herself at school.
What's awful: Wonky lines, Very unsanitary, sloppy sloppy work.
P.s. Love this blog. lots and lots. it's taught me a lot about my own modifications.
Sources:
https://scontent-b-lga.xx.fbcdn.net/hphotos-prn1/1148865_10201010752969587_1831714543_n.jpg
https://scontent-b-lga.xx.fbcdn.net/hphotos-prn1/943699_506655262717409_2112312855_n.jpg
https://scontent-a-lga.xx.fbcdn.net/hphotos-ash2/196109_406587386046977_1863352903_n.jpg
https://scontent-a-lga.xx.fbcdn.net/hphotos-ash2/t1/417014_2816495130085_1047368477_n.jpg
https://scontent-a-lga.xx.fbcdn.net/hphotos-frc1/420555_2816023758301_789958846_n.jpg
Questions and Queries?!
If you have submitted a question or query in the past and find that it hasn't been answered, we apologise!
I'm going to be going through and answering a bunch every few days. If you find it isn't an issue any more or something's changed in the question you had, feel free to ignore the response or send us another update. 
(SOURCE)- Zjebany Piercing via Facebook
Submitter's Comments: Was cruising on Zjebany Piercing on Facebook and saw this….creation.
Why It's Awful?: Horrible, incorrect jewelry. Those look like skin divers but I might be wrong, along with bioflex barbells in a 'surface piercing.' What's that black thing lining her neck?! It looks like those plastic things you tie/lock your luggage with when you go on a plane. 
How It Can Be Fixed?: TAKE EVERYTHING OUT!