AWFUL MODS
Mar 06
Friendly Reminder!
Please do not send or encourage hateful language or anonymous insults. Our mission is to educate and bring awareness, not upset people. And please remember, you can contact the moderators here at anytime to edit or remove a post if it's upsetting. I encourage anyone submitted to use the chance to explain their position and if they've changed their habits so our visitors can learn from the mistakes, but completely understand and respect a desire to have posts removed as well.
Thanks!
Petra
Feb 19
You all hear me talk about implant-grade body jewellery, and how not all pieces of jewellery are made equally. I also talk a lot about surface finish and mirror polish (and sometimes my portfolio photos have me or my camera reflected in the jewellery!).

However, it can be really difficult at first glance to see the difference between a $2 piece of jewellery or a $100 one, and that can be confusing!

Here is a fabulous example showing the difference between high polish, implant grade body jewellery and the lower quality pieces of jewellery.

Photo credit to Ashley Misako and Rob Hill, and, of course, to the Association of Professional Piercers !
the next person who tells me i'm a snob about jewelry in a condescending way, i swear i'm gonna pop 'em upside the head.
(via cthulhupeelz)
Source: Tat Two ltd - In Ashford Kent, UK.
Submitter's Comment: AVOID like the plague. 
Feb 10
These are from my friend's sister's Facebook. As you can see, both are very sloppy. And 'freedom' is spelled incorrectly. The lines are wonky and the tattoos overall are just not good. Pretty sure they were done by a scratcher.
______
Unless it's an abbreviation for "Free-DAMN this was a bad idea"?
-Petra
[video]
Feb 08
Epic Fail!
(SOURCE)- Facebook's 'Zjebany' page
Submitter's Comments: Was trolling around Zjebany page again, looking for fails.
What's Awful?: Doz meat legz! And then be proceeded to stretch the meat legs? WTF O_O! I'm not sure what's on his face… it looks like an extremely poorly placed cheek piercing that's been stretched? His whole ear just looks like it hates being attached to him.
How Can This Be Fixed?: Take all those tunnels out, get reconstructive surgery. Take that thing out of your cheek asap! Or at least clean all the funk and crust off… at least!
—————————————————————-
mod comment:
The thing on his face is a sort of new surface anchor/implant type thing "skin tunnel". I wish i knew where to find the diagrams explaining how it works or even how to look for where they might be, but i forget what the guy who came up w/ it is calling them. In any case, it doesn't look happy either.
-Kat
Feb 04
Was looking for 'Vampire Bite' microdermals on Google images when I saw the first picture.  I clicked on it, knowing that it was improper jewelry and was directed to this website .  It's full of pretty bad piercings.  I tried to reverse image search these two and nothing came up for an original source. 
What's awful: The first one is using incorrect jewelry.  They should be using a 90* surface bar, not a clear plastic barbell.  The second one looks like a barbell as well (hard to tell) and it seems like it will catch from the jewelry being too long.
How to fix it:
Take it out, let the piercings heal.  Then, go to a reputable piercer and get either microdermals or a 90* surface bar.
Feb 03
[video]
Feb 02
Gun piercing horror story
When I was about 5 years old my Mom took me to the hair salon to get my ears pierced. They used a gun and didn't wear gloves. The piercing gun was so awful that it jammed and pulled out the jewelry. So I had to get my left ear done twice.
and this was their golden aftercare advice:
clean with rubbing alcohol twice a day
spin the jewelry/pick off any crusties
wear jewelry on the tightest setting so the back doesn't fall off during swelling
Not only that, I also was allergic to the shitty jewelry they pierced my ear with so my ears were so irritated that it took four years for them to settle down - four years. I was just a kid and I thought it was my fault so I hid it from my parents.
The only reason my ears settled down was because I realized my skin grew to the back of my studs for the third time so I ripped them out. There was so much scar tissue from constantly getting infections that my holes stayed open and the next jewelry I put in just happened to be stainless steel, which finally closed the book on the problems.
I've since educated myself and now have 30+ piercings and only get pierced by professionals with needles - and I've never had a piercing issue since.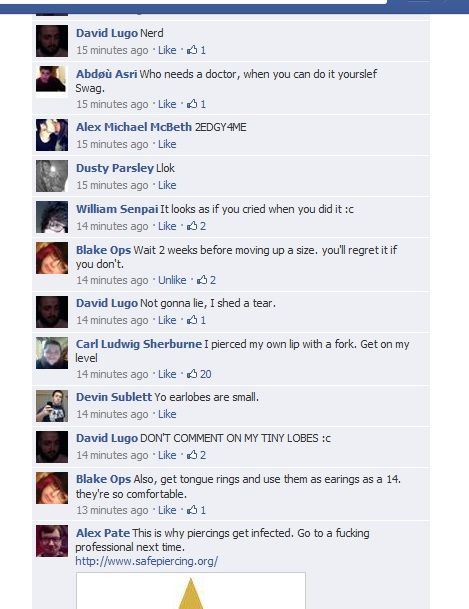 I was going through a facebook group when I saw this he pierced his ear himself and already plans on stretching to a 14g later tonight.  Then, somebody comments that he pierced his lip with a fork.  
video of guy piercing lip with fork  
What's awful:  He's sizing up the day he pierces his own ear with a sewing needle and the other guy PEIRCE HIS LIP WITH A FORK
How to fix it: TAKE THEM OUT! Get them done by a professional!  DON'T USE EATING UTENSILS TO PEIRCE YOURSELF
[Don't have a Tumblr and I tried my best to do everything right but not sure if my computer was cooperating/I was mildly confused]