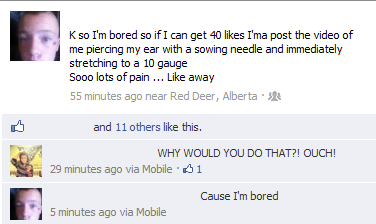 SUBMITTER'S COMMENT: I saw that my friend liked this status on the side news feed on facebook, so I got curious and clicked it (because come on, who doesn't do that sometimes?) and to my misfortune… I saw this. I cringed so badly.
WHAT'S AWFUL: First off, piercing yourself just because your bored is plain stupid! Second, using a sewing needle to pierce yourself is unsanitary and will most likely end in infection. Lastly…..stretching right away to 10g….how stupid do you have to be to do that? Not to mention this guy is apparently only 13 years old. The fact that  people are actually liking this status is even worse.
HOW IT CAN BE FIXED: DON'T DO IT!!!!!! Don't be stupid! Go to a professional piercer, get it pierced properly, then wait for a year or so, and then gradually stretch up to 10g!