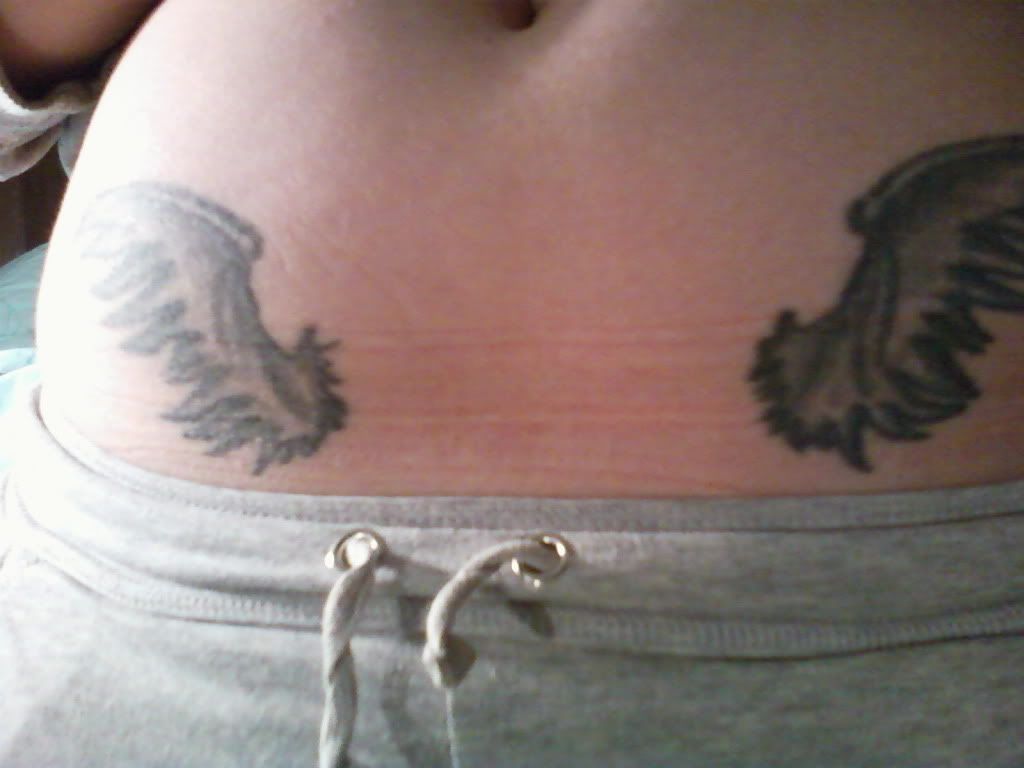 SUBMITTER'S COMMENT: Well, this is my first tattoo. I was too impatient to wait for my brother to take me to a shop and ended up going to a scratcher.
WHAT'S AWFUL: They're just bad. They're uneven, at different angles, and different sizes. The shading is all stripe-y, too. It used to look even worse.
I was only a few months away from being legal to get a tattoo. I don't know why but I was stupid and decided to go with my upstairs neighbor to a "friend" of hers. She said he was a "professional." I trusted the wrong person. When we got there I wanted to back out but didn't feel like I could. He didn't wear gloves. He and the two other people there were smoking pot and cigarettes the whole time. He used an ink pen and deodorant to put the "stencil" on. I laid on a Bowflex in the back room of his parents' house.
Surprise! I got MRSA. I caught it really early so I didn't get too sick. I had a blister right in between the two wings. It was just a little bubble, maybe half a centimeter across, but was raised up and really painful. At first I thought maybe it was an ingrown hair or something, but then it started to feel like I had a bladder infection. It hurt to pee and my stomach ached. I actually had a teacher I showed it too who used to be a nurse and she convinced me to go to a doctor. I went to the ER and they wanted to lance it but it popped on it's own before they could get to it. I got some antibiotics and had to keep it covered for a little while. I'm allergic to bandaids too, so yay, raw skin from a tattoo, MRSA blister, and welts from bandaid adhesive, all right there. I had a scar for up until maybe a year ago that looked like a square with a little dot in the middle from it.
Then about a year later, I had it sort of covered by a guy in a shop that my friends had been tattooed by. They're tattoos came out fine. I'm not sure if he was out of his depth or what, but the way it looks in the pic is after he "fixed" it.
HOW IT CAN BE FIXED: When I have the money, I'll go to a reputable artist and have it covered up. Until I know what I want it covered with and I have the money, I'll just have to settle for having a crappy tattoo for a little while.