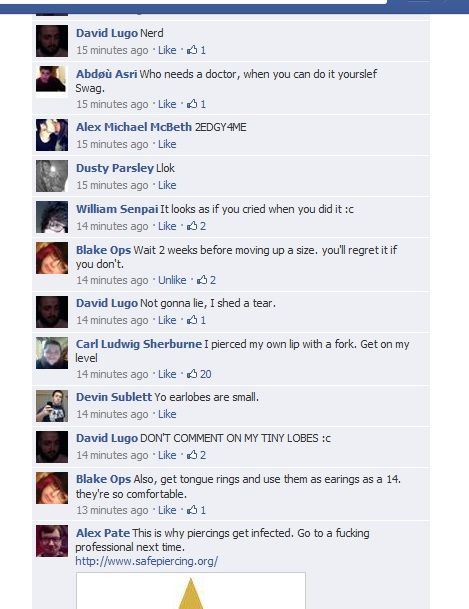 I was going through a facebook group when I saw this he pierced his ear himself and already plans on stretching to a 14g later tonight.  Then, somebody comments that he pierced his lip with a fork.  
video of guy piercing lip with fork  
What's awful:  He's sizing up the day he pierces his own ear with a sewing needle and the other guy PEIRCE HIS LIP WITH A FORK
How to fix it: TAKE THEM OUT! Get them done by a professional!  DON'T USE EATING UTENSILS TO PEIRCE YOURSELF
[Don't have a Tumblr and I tried my best to do everything right but not sure if my computer was cooperating/I was mildly confused]
104 Notes/ Hide
jk-quinn reblogged this from iamninjadude and added:

How are your teeth doing anyhow, sempai?