Q:

Hi, can you describe (and if you can, provide pictures) the difference between an infected pierced and an irritated piercing? And how long irritation symptoms can last? My navel has been irritated since I got it, and I'm afraid it might be an infection instead.
crowleysbigcock
Irritated piercings:

Symptoms: Sore, red, swollen, itchy, bumps developing, maybe warm. White or barely off-white colored discharge is normal. Crusties are normal, but might increase if the piercing is irritated.

Duration: Potentially indefinitely as far as I'm aware. A piercing will stay irritated until it is either removed, the jewelry is changed to a different material, length, or size, or something is done (like sea salt soaks, chamomile soaks) to reduce irritation. Things like hair products, make-up, everyday dust and dirt, clothing, smoking, you name it can irritate a new piercing.
Frankly, a piercing is going to be irritated for ___ amount of time after you got it (dependent on piercing, difficulty of healing, your body etc.). You just had someone create a wound and put something in that wound and are trying to get your body to heal around it. Your body's natural reaction is "no, get this out of me, what is this foreign object". Also it takes time to heal wounds. Stop touching it, be patient.


Infected piercings: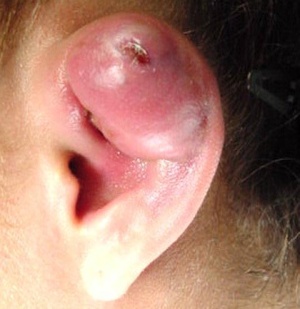 Symptoms: Very red, very swollen, painful to the touch, warm to the touch, smelling funny, oozing pus (green, yellow, or gray gunk/liquid), or even bleeding. (New piercings are prone to bleeding as they are wounds, don't worry if you see blood the few days after getting a new piercing.)

Treatment: Go to your doctor, the ER, walk in clinic, whatever you have access to ASAP and get anti-biotics. Do not remove the jewelry (until on anti-biotics) as that might trap the infection and make it WORSE. A true infection will not go away with soaks, oils, or soap.
-Kat
"Hello, sorry to be a pain sending more than one ask today, but I want to nitpick Kat's infection vs irritation post. It isn't actually possible to tell the difference between a *mild* infection and irritation for sure without taking a swab and culturing it. Infections *can* go away with soaks and time if they are not too severe and if they are draining. If you think you have an infection, you should *also* continue soaking and can even apply light pressure around the wound to aid drainage." - imperfect-illusions

This is a good point. It's generally difficult to tell the difference between the beginnings of an infection or a very mild infection from regular irritation. However, if symptoms are getting worse instead of better OR you are debating going to the ER/your doctor/whatever, chances are YOU SHOULD GO ASAP.